A Goodbye KISS: Des Moines Gets One Final Bang
Was he or wasn't he? That was the 800-pound elephant in the room at Wells Fargo Arena Tuesday night as KISS and their hip-swaying vocalist and founder Paul Stanley strutted their cocksure collective stuff onstage one last time in Des Moines as part of the band's "End of the Road" farewell tour.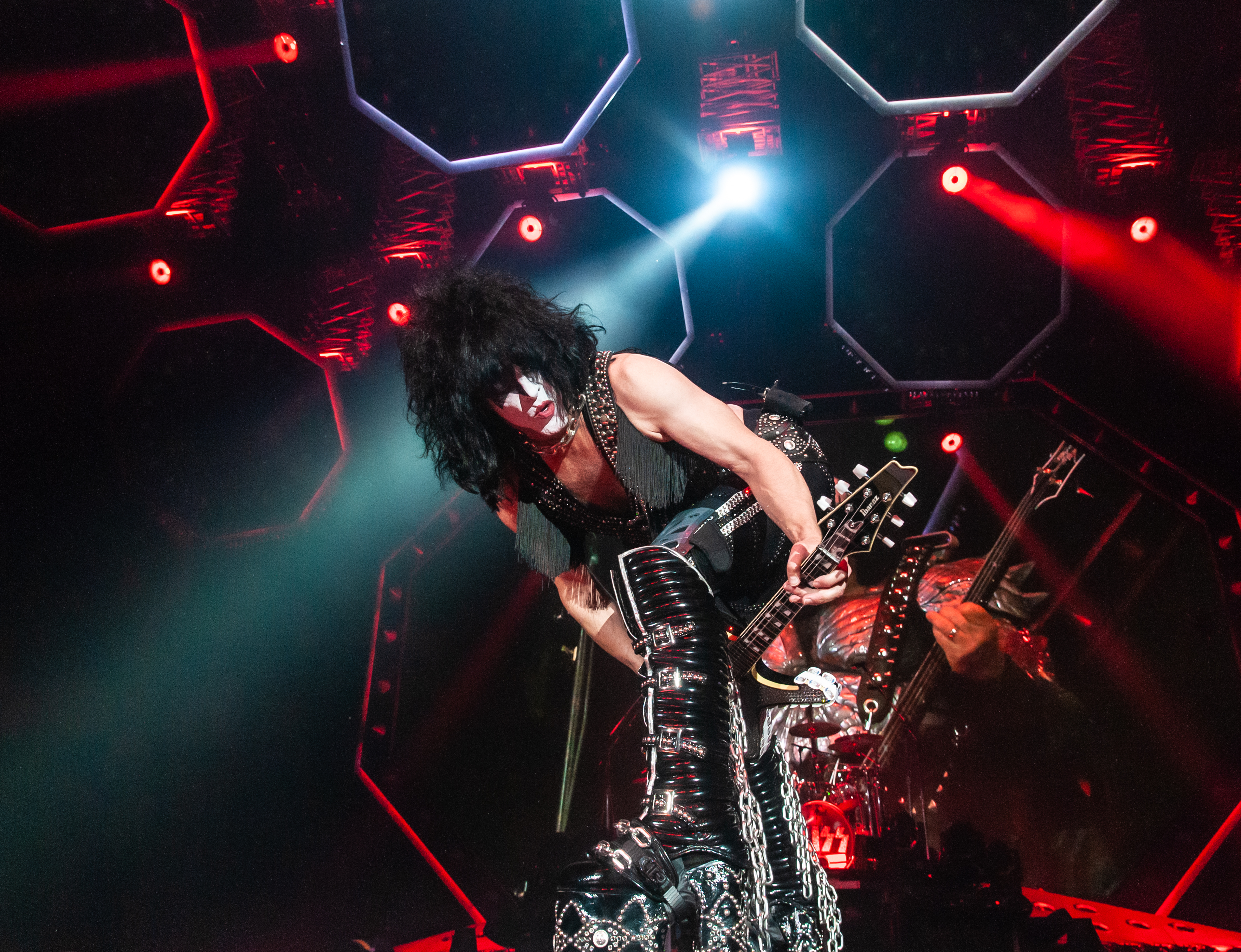 Was he singing? Or was it Memorex?
The 67-year-old Stanley has been besieged by vocal problems in recent years, particularly when he enters his instantly recognizable high register. In fairness, if you had to sing "Detroit Rock City" and "Crazy Nights" for more than 30 years, you'd sound like you've been rinsing your throat with broken glass, too.
But the question still remained, especially after videos began surfacing on YouTube at the beginning of the three-year swan song tour, videos allegedly showing that what was coming out of Stanley's mouth did not match what the audience was hearing. Some "enhancing" was taking place, critics shouted. The KISS Army fired back in defense of their man: Lag times. The synching between audio and visual is still an imperfect science. And if the science defense didn't work, the response was simply "Eff you. We don't care either way. It's KISS."
As the curtain dropped for the more than 9,000 in attendance and Stanley and partner in crime bassist Gene Simmons emerged in all their leather-shorn leather grandness, two questions remained: Was there any gas left in the KISS tank? And if so, is it legit?
The band wasted zero time in getting the ball rolling with "Shout It Out Loud," bookended by opener "Detroit Rock City" and "Deuce." The staging was consummate KISS with video screens, risers, smoke, lasers and a myriad of other pieces of eye and ear candy. Stanley, to his defense, did not shy away from his usual between-song banter, shredded voice or not.
Years ago, Stanley's sometimes rather effeminate-sounding squeals and vocal gymnastics were par for the course. Fast forward a few decades, though, and the years have taken their toll on his voice. But given the choice to try and recreate the vocal stylings of yesteryear despite his age and lessening abilities, or play it safe, on this night, Stanley thankfully chose the former. Yes, at times, it was cringe-worthy, especially during "100,000 Years," from the band's self-titled 1974 debut album, or "Heaven's On Fire," from 1983's "Animalize" album, which marked the only appearance by lead guitarist and now-deceased Mark St. John, (who replaced Vinnie Vincent, who had replaced Frehley). But at least it was real.
Stanley was trying. He was singing, or at least attempting to. If there were extra "additives" to his vocals, they were discreetly hidden. Stanley's voice was tattered and worn at times, but at least on this night, it seemed that it was his and his alone.
Bassist and band marketing maven Simmons and his flicking, snakelike tongue, sauntered about the stage with his usual machismo and bravado. Never one to pass up a chance in the spotlight, Simmons belied his 70-year-old age with the pulsing and back-to-back "I Love It Loud," and "War Machine," as well as perfect takes on "Let Me Go Rock and Roll" and "Dr. Love." The infamous growls and demonic spitting of "blood" that segue into "God of Thunder" were there, too.
The bizarre song selection of the night came in the way of 2009's "Say Yeah," from the band's "Sonic Boom" album. Neither song nor album made much of an impact when they were released, and the audience's zombie-like reaction were indicative of that. Also, conspicuously absent were any songs from 1992's "Revenge" album, a platter many consider one of the band's best.
Sidemen guitarist Tommy Thayer and drummer Eric Singer were their usual solid, if unspectacular selves, throughout the night. Purists may disagree with their very existence, especially donning the exact same makeup worn by original guitarist and original drummer, Ace Frehley and Peter Criss, respectively. After more than 20 years, though, it's time to get over it. Let it go.
Singer showed his talents by taking front and center behind a grand piano for a note-for-note version of one of the band's most polarizing, yet popular, tunes, "Beth." "Black Diamond," also sung by Singer, showed the band at its heaviest and best.
Dozens of huge, logo-encrusted balloons were dropped from the rafters during second-to-last song, "Crazy Nights," but instead of the arena turning into a sea of bounding white balloons, audience members quickly latched on to the fact that this was a farewell gig, and anything and everything from the band was literally a souvenir. So after a few bounces around the audience, the balloons disappeared into waiting hands.
The night — and the band's more than 40-year history of playing Des Moines — came to a spectacular culmination with set closer "Rock and Roll All Night," which featured an amount of flying confetti that will surely be giving arena cleaners PTSD-like trauma for decades. And that was just the confetti. The "all-in" finale also included explosions, flashes, smoke, flames, fireworks, Stanley smashing a guitar, and the rest of the kitchen sink.
"Going out with a bang" has taken on new meaning.
In the pantheons of rock 'n roll — lyrical absurdity and missteps aside — KISS will be given their just due. Sure, off stage the band has been far from perfect. Album abominations "Music From the Elder" and "Hot In the Shade" come to mind, as does 1978s laughingly horrific theatrical release, "KISS Meets the Phantom of the Park." The on again/off again/on again/you-guys-are-dead-to-us relationships with original members Frehley and Criss have become nothing if not tiresome.
But their contributions far outweigh the negative. KISS is a band that launched a million others. The number of professional musicians who say their very first seed of inspiration was sown with the purchase of "KISS Alive II" is astronomical.
KISS is a band that redefined the live concert experience. How many people come out of a KISS concert feeling worse than they did three hours earlier? The lights, the sound, the crotch-in-your-face gregariousness is as constant as it is consistent. It's like going to an AC/DC show — you know what your ticket is buying.
So as long as there's a Paul Stanley and Gene Simmons, there will be a KISS. But the end of that road is now nearing, and Des Moines waved its final goodbye Tuesday night. Is it possible to have an entity without Stanley and Simmons that calls itself KISS continue to wave the flag? In short, no. This is it.
There can be only one.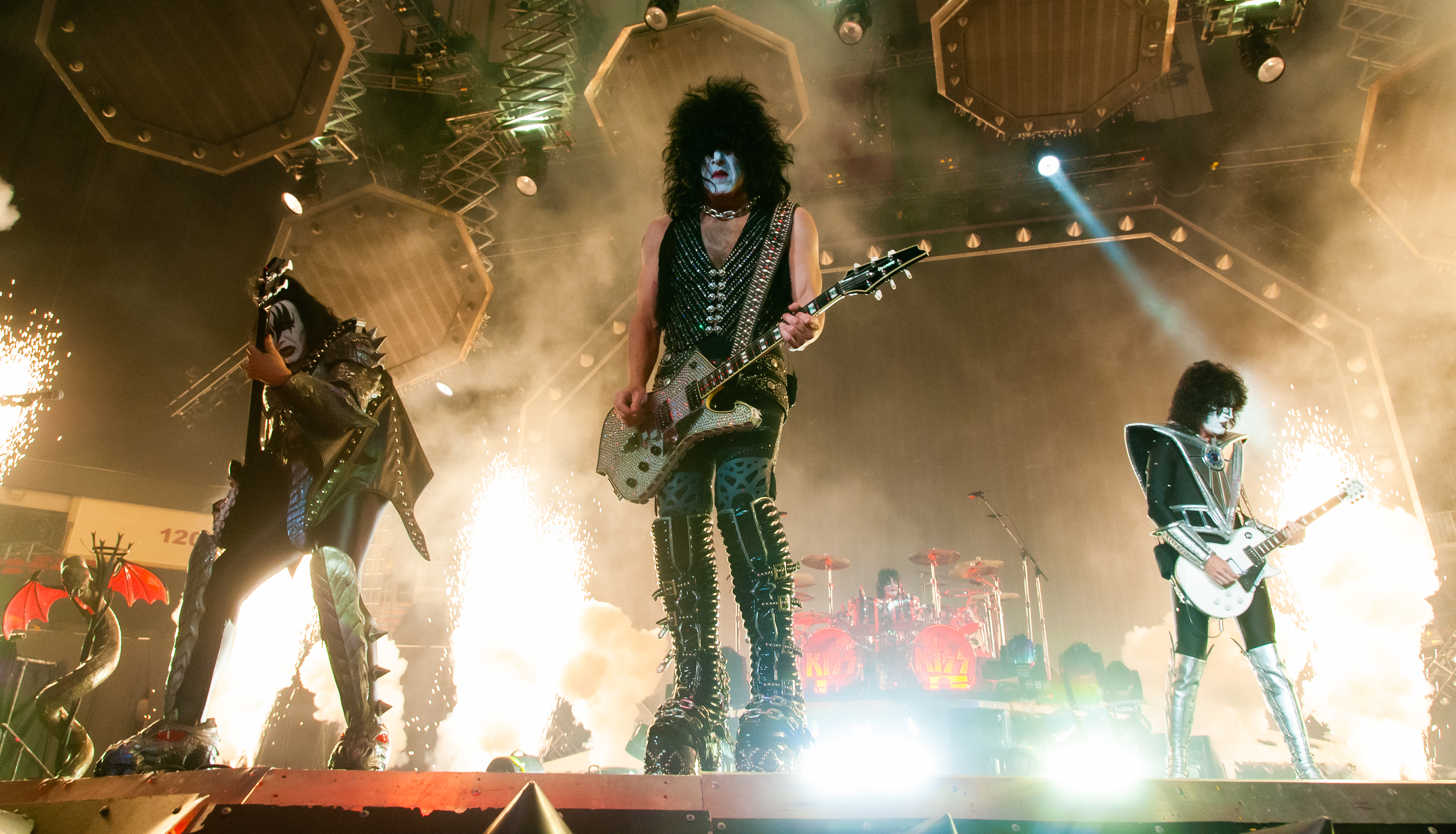 Setlist
Detroit Rock City
Shout It Out Loud
Say Yeah
I Love It Loud
Heaven's On Fire
War Machine
Lick It Up
Dr. Love
100,000 Years
Cold Gin
God of Thunder
Psycho Circus
Lemme Go Rock And Roll
Love Gun
I Was Made For Loving You
Black Diamond
Beth
Crazy Nights
Rock And Roll All Night