In Union They Stand: A Conversation With NeverWake's Johhny DiCarlo
If Nashville is the capital of country music, Pittsburgh should be the mecca for heavy metal. Common sense says that any city associated with the term "Steel Curtain" should be.
And while Pittsburgh metallions NeverWake may not have a "terrible towel" to fly like their black and gold NFL brethren the Steelers, they do carry a banner of their own — one of the heavy metal variety. They fly it hard, and they fly it strong, with the mission of converting as many concert-goers to NeverWake fans as they can.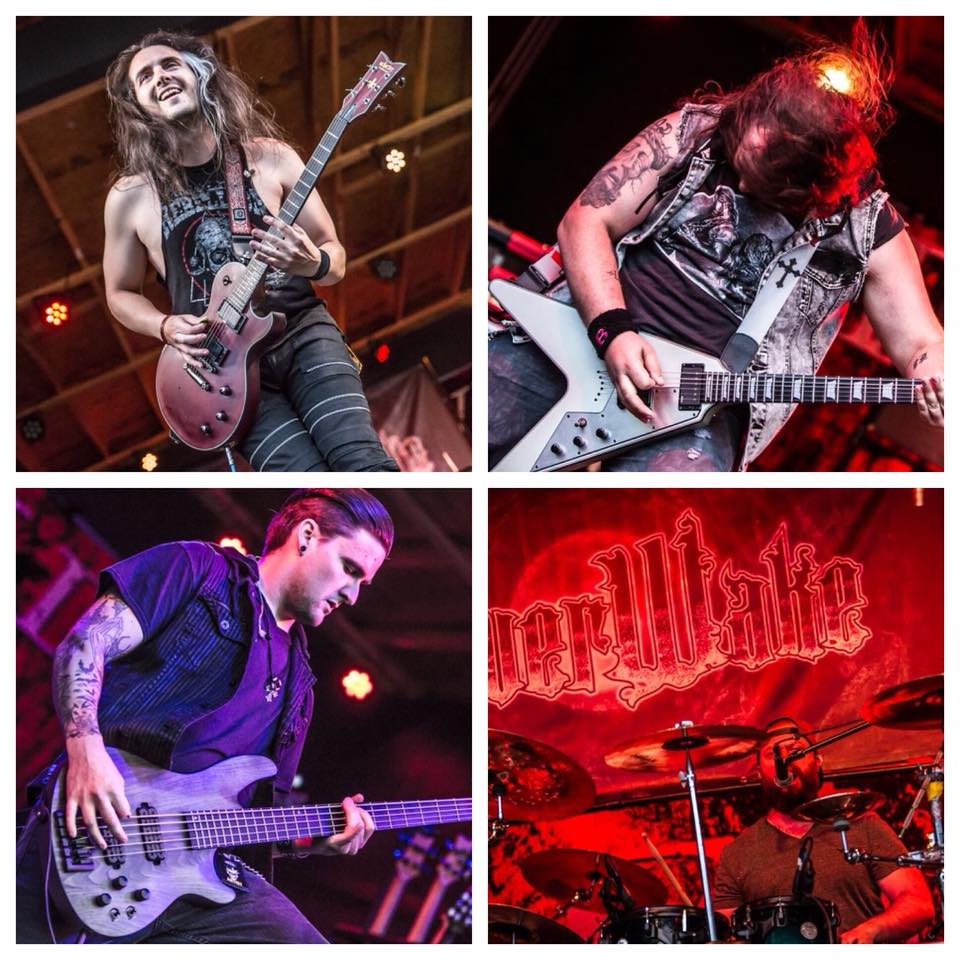 And to wreck their necks.
"You're going to be doing a bunch of headbanging," said lead vocalist and guitarist Johnny DiCarlo of attending a NeverWake show. "People want to mosh and stuff, but ultimately, we want you to get into the music. We want you to forget everything you have to do later — except ice your neck from all the headbanging.
ListenIowa caught up with DiCarlo and bandmates Justin Sanford (guitar/vocals), Marcus Giannamore (drums), and bassist George Scott as the quartet had just wrapped rehearsals and were en route to the opening night of a month-long jaunt with The Veer Union, which includes stops here in Iowa at the Red Stone Room in Davenport on April 25, and a Saturday, April 27, show at Spicoli's Reverb in Waterloo.
You guys just got back on the road, this time in support of The Veer Union. The market is tough these days, with a lot of bands out there trying to make their mark as well. What's your approach to separate yourselves from the pack?
You have to be you, stand out, and do what you can. It's not about going out there and worrying about making money. You've got to go out there and be yourself, and that will rub off on the fans. If they like you, they might be willing to buy your music or buy a shirt. Ultimately, we want people to be fans of NeverWake, not sell a certain amount of shirts every night, though. At the same time, we have to sacrifice things and make sure to do things like spend money at the last minute. One time we drove four hours to a show and Marcus forgot his bass (drum) pedal. (laughs) That was $400. You need to minimize stuff like that when you're on the road because it adds up.
What's the status of "Misguided," the E.P. you guys are set to release soon?
We are in the mixing process. This album is a bit darker. All the songs are on 7-strings (guitars), so it's all down-tuned to A. When we were writing in that key, things tended to get a little darker. We don't want to nail a hard date on the release yet, though. Everybody just hold on. We're out here on tour, and we're squeezing things out of the "Are You In There" single as much as we can. We will be playing another single on the tour, so if you want to hear us play a new song, you have to come out and see us.
John Moyer of Disturbed produced the single. Is he doing the rest of the album as well?
Yeah, he's producing the rest of the E.P., the same as our last E.P., "Incinerate." We're very fortunate to work with him and be friends with him. He's become a good friend to the band, and to get his knowledge and input on stuff is really cool. And it's just cool to be friends. I grew up listening to Disturbed, and now years later he's eating at my family's dinner table. (laughs)
How did NeverWake get on John Moyer's radar?
Literally it was an email that was sent out. We saw that he was going to be at a conference, so we sent out an email saying that we'd like to sit down and talk to him and meet. We did, and then showed him some of our music. He became interested, and when it came time to go back into the studio, we gave him a call.
How much creative input does he have in the actual songwriting and structure? Or do you guys like to keep that to yourselves?
We establish the song and write everything. He then comes in with a fresh perspective on it. He likes to call it "demo-itis." At times, he'll tell us not to get too used to something we bring in because it might get changed here or there. I'll be honest, we've never used a producer before, and when John came in, he changed things up. He'd tell us to change this section, or shorten up things here or there. People like to think it's all happiness and butterflies and people are accepting of everything in the studio, but we butted heads, especially the second EP because we were more on a friend level with him. There were times when I had to walk out of the room because I was like, "Grrrr. Man, I don't want to change that part." And there were things that he didn't like, and I had to say, "Sorry, John, I like this." But you have to take input. You have to take learn to take creative criticism and look at it from a different angle. There are a lot of times where I was glad I shut up. I'm glad I listened and let him do his thing.
Having your baby be called ugly is never easy.
(laughs) Yeah, that's just something you have to deal with. The first time around it was a shock, and the second time we were better prepared for it, but it was still tough.
Do you think going the E.P. route is the better approach these days instead of a full-length?
At first we didn't like the idea of it. But you have to think of how media is released now. You need to stay relevant and have more stuff out. And you have to think of the attention span of people. I was reading an article the other day and learned that the attention span of a human being used to be something like 15 seconds, and now it's 3 to 7. What happens is, if you put out an entire album with 13 songs on it, it's hard to grab people for the entire 13 songs. People skip through them. So the E.P. route allows us to put the focus on these songs and gives people a bite-sized piece of media that they can take in. At the same time, it allows you to do some things creatively, too. You can do a Part I on one E.P. and Part II on the next; it opens the door. We've embraced it, and it's something that's gotta be done now.
You covered Michael Jackson's "Thriller" on the "Incinerate" E.P. in 2016. That's an interesting choice for a song to cover. Are there some closet MJ fans there on the bus?
We're big on Halloween. We love all things Halloween. We do it as big as Christmas. We've been a band for awhile but have never done a remake, and I'm constantly getting people telling me try this or try that. I was at home working on something, and my now wife walked in and said, "Have you ever thought about doing 'Thriller?' "And I was so tired at that point of people telling us to do something that I said, "You know what? I'm going do this, and I'm going to show you how much it's going to suck." (laughs) So I started, and I wasn't even past the intro, and was like, "Man, this sounds really cool." It hit me because I was so against it, and then I was totally for it. But we had already finished the entire "Incinerate" album and were in the process of mixing things. It was a week away from Halloween. I walked into the studio the next morning, and it was 10 a.m., I was tired, the studio engineer, Mike, was tired. We were just about to get started (mixing), and I said to him before we got going that I had this demo on my phone that I had been messing around with, and I wanted him to check it out. I started playing it, and he noticed the intro right away. We were five seconds into it, and he stopped the track and goes, "Dude, we have to do this." But everyone was back at work. John was already back in Texas. So I texted the guys, "Hey, Mike wants us to do 'Thriller'. LOL." But everyone got back to me, and everyone just happened to be free. So we were like, "Wow. We're doing this." We got back in the studio and knocked it out in a week. It was a really weird situation that happened, and we ended up really digging it.
Now that you know that you can indeed turn what you thought was a turd into a diamond, can we expect any more cover tracks from you guys?
We do have an arsenal of stuff. We don't have a shortage of tracks. We've got a MacBook full. We have a couple of cover remake ideas in there that are really cool, but we have to sit on them. That's the only downside to an E.P. You have all this material, and you have to wait on some of it.
And I hope you have that MacBook backed up so you don't pull a Kirk Hammett and lose 250 riffs like he did with his phone.
Oh, my God. It's ridiculous how many backups we have. We have backups of backups. (laughs)
NeverWake On Tour w/ The Veer Union
April 24 Wichita, Kansas
April 25 Davenport, Iowa
April 26, Sioux Falls, South Dakota
April 27 Waterloo, Iowa
April 28 Lincoln, Nebraska
May 1 Pekin, Illinois
May 2 Minneapolis,
May 3 Fort Atkinson, Wisconsin
May 4 Eau Claire, Wisconsin
May 8 Westland, Michigan
May 9 Lansing, Michigan
May 14 Cambridge, Massachusetts
May 16 Teaneck, New Jersey
May 17 Winchester, Virginia
May 18 Huntington, West Virginia
May 19 Charlotte, North Carolina
May 22 Fayetteville, North Carolina
May 23 Atlanta, Georgia
May 24 Birmingham, Alabama
May 25 Clarksville, Tennessee
May 26 Louisville, Kentucky
June 23 Pittsburgh, Pennsylvania*
July 20 Rock Fest, Cadott, Wisconsin*
*Not with The Veer Union