Matt Whipkey to perform at Iowa Theatre in Winterset
Omaha's Matt Whipkey's guitar has scars. It's got a few scratches here and there, heck, it even has a worn out space where his right hand has passionately strummed. Decades have passed since this guitar has seen its pristine look; the miles it's seen, the crowds it's wooed, the legendary stages it's graced.
Like most singer songwriters, a song starts with a song and a guitar. Rock 'n roller Whipkey will bring an arsenal of new songs and his wonderfully-weathered guitars to the newly renovated, historic Iowa Theatre Winterset, Tuesday, Aug. 8, 7 p.m. Doors open at 6:30 p.m. Reserved seating costs $10. Purchase online at the-iowa.com or in person at Iowa Theatre Winterset, 121 John Wayne Drive, Winterset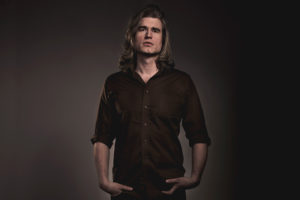 .
"Performing for audiences tucked away in smaller towns is such a thrill for me," Whipkey said. "You can feel the history in these venues, these communities are always very supportive. I'm excited to be one of the first performers in that gorgeous room. It's already speaking to me."
Whipkey previously played the legendary Surf Ballroom twice in 2016 and Des Moines' Hoyt Sherman Place last year. Playing these stages, the multiple Omaha Arts & Entertainment Award winner, said, provided new perspective. Whipkey, who supported icon Dwight Yoakam on more than two-dozen tour stops in 2015-2016, capitalizes on juxtaposing longing harmonica with his dancing telecaster in his newest single "One Shot."
His penchant for penning the seasons' soundtracks, summer especially, continues in the longing "One Shot." The single is his first from the nine-track standout, Best New Music (available online only). Whipkey is also in the midst of a Pledge Music campaign for the ambitious Driver album. Driver is directly inspired by Whipkey's time as a driver for various ride-sharing platforms.
Fans have eagerly embraced Whipkey's Americana-tinged Rock n' Roll. Unabashedly Midwestern, Whipkey recalls the recklessness of  "Let it Be" era Replacements with the resolve of "Darkness.." era Bruce Springsteen. However, the energy, showmanship and rock and roll would be in vain if not for Whipkey's top tier songwriting.