REVIEW: Eagles, 11.17.22, Wells Fargo Arena
More than 12,000 people braved the mid-November cold and snow to venture to Wells Fargo Arena in Des Moines Thursday for what they knew would be a good show: The Eagles, a band whose reputation for putting on great performances precedes them. You don't sell 200 million albums worldwide by doing things wrong. 
But somewhere on the way to the concert, an experience broke out. And it was one to remember. 
The band, consisting of band leader/drummer/vocalist Don Henley, guitarist Joe Walsh, bassist Timothy B. Schmit, guitarist Vince Gill, as well as touring muisicians Steuart Smith (guitar), Scott Crago (drums, percussion), and Will Hollis and Michael Thompson on keyboards and/or piano, not only reminded concert-goers that they are anything but past their prime, they also proved they're still a powerful sonic force some 50 years into the gig.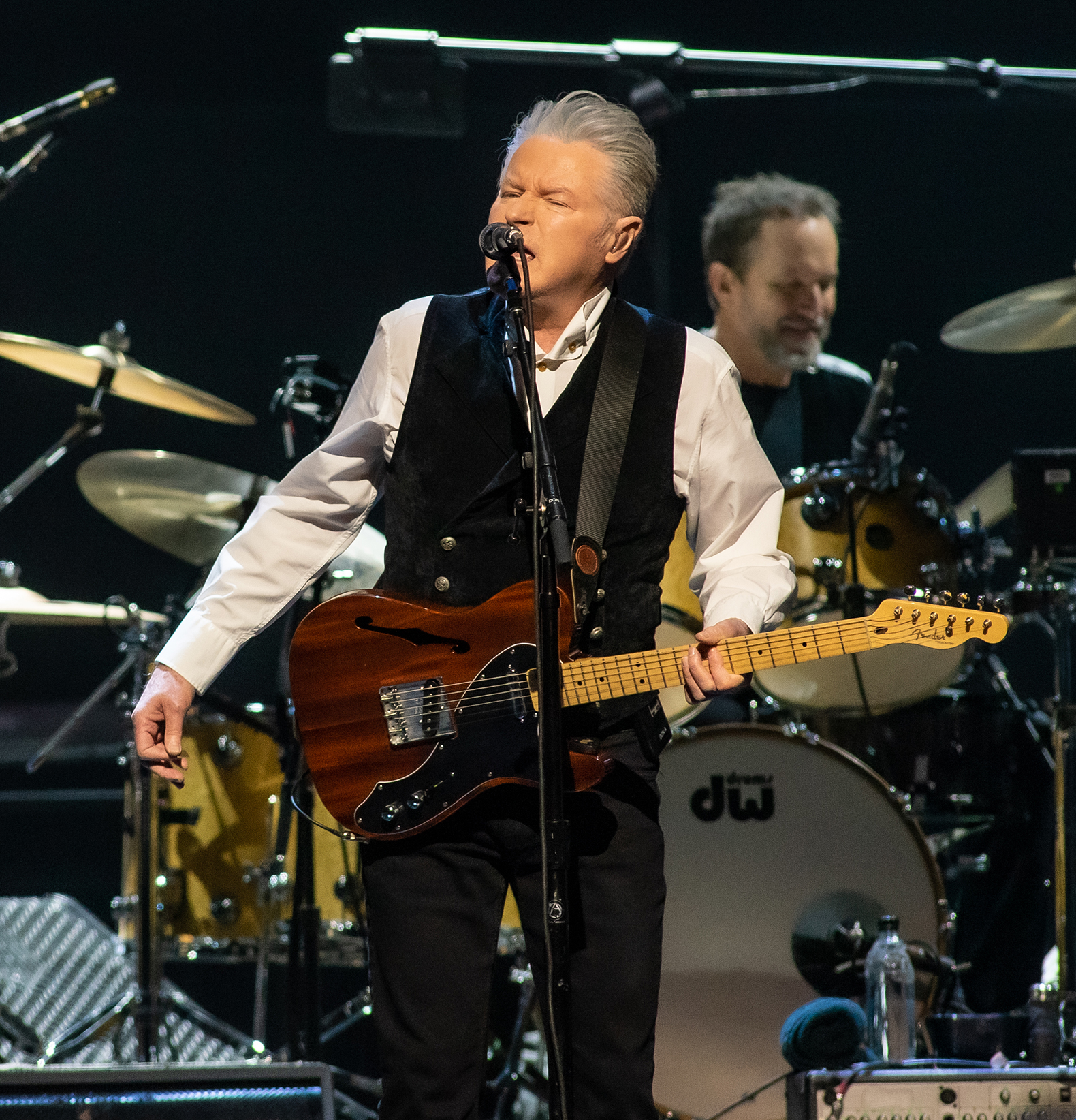 The band is in the midst of its "Hotel California 2022 Tour," performing their entire, and now legendary, "Hotel California" album, front to back, accompanied on this date by a local 40-piece orchestra dubbed the "Interstate 80 Philharmonic," as well as beautiful vocals of the Des Moines Choral Society. 
The result of the combination of the band's already legendary multi-part vocal harmony abilities with the two entities was a marriage made in Heaven. Or at least a hotel somewhere in California.
It's not often a band can open a show with its biggest hit — in this case the title track, "Hotel California." Think Led Zeppelin opening with "Stairway to Heaven." But when you sell 30 million copies of one record, you don't play by the rules, you make them.
With the death of former band member Glenn Frey, Henley has become the defacto band leader. Henley was the only member who spoke to the audience — other than during the obligatory band member intros — during the three-hour performance, rotating from behind the kit to front and center with an electric guitar for lead vocal duties with ease during "Life In the Fast Lane," "The Last Resort," "Victim Of Love," and later, his solo hit, "Boys Of Summer."
Henley told the audience following the conclusion of the "Hotel California" set that if it seemed short, it's because albums were only 40 minutes back then.
"From what I've heard lately, they should still be," he cracked.
Gill was his usual smooth-as-silk self, a perfect fit for "Try And Love Again," and "Take It To The Limit," and "Lyin' Eyes."
The inimitable Walsh, now 74 years young, continues to be a fan favorite with his playful facial mannerisms and "Joe-speak." 
"I had a lot more fun in the 70s being 20 than being 70 in the 20s," he joked before the famous Henley kick drum introed the instantly recognizable and gritty guitar riff of "Life's Been Good." Ditto for "Rocky Mountain Way," in which Walsh was given an extended guitar solo break, complete with video effect of him literally dripping with fire on the 40-foot backing screen.  
Deacon Frey turned in a dead-on (pardon the pun) performance of "Take It Easy" and "Peaceful Easy Feeling," songs made famous by his late father and former band member, Glenn Frey.
Not many bands can boast having multiple lead vocalists, but the Eagles take it to another level. Not one, not two, but five band members handled lead vocals at some point during the night, including Schmit on "I Can't Tell You Why." 
The beautiful, five-part vocal harmony of "Seven Bridges Road" kicked off the "Greatest Hits" portion of the show, complete with back-and-forth guitar licks between Gill and Smith. 
And from there, the hits just kept on coming from the lucid "Tequila Sunrise," to the lonely keys of "Desperado."
Country rock, soft rock, FM rock, folk rock, corporate rock, you name it, the Eagles' music has been called it over the years. And all of the tags have been earned in some shape or fashion. The band might even likely agree. 
 Regardless of what the Eagles music is or isn't, it continues to connect five decades later, as was witnessed as Wells Fargo Arena Thursday night.  
Must be that peaceful, easy feeling.
Setlist:
Hotel California
New Kid In Town
Life In The Fast Lane
Wasted Time
Victim Of Love
Pretty Maids All In A Row
Try And Love Again
The Last Resort
Set 2:
Seven Bridges Road
Take It Easy
Peaceful Easy Feeling
One Of These Nights
Take It To The Limit
Witchy Woman
In The City
I Can't Tell You Why
Lyin' Eyes
Tequila Sunrise
Life's Been Good
The Boys Of Summer
Funk #49
Heartache Tonight
Encore:
Rocky Mountain Way
Already Gone
Desperado
Best Of My Love