REVIEW: Steel Panther, "Heavy Metal Rules"
There's something to be said about consistency. Face it, when you buy an AC/DC album, you know what you're getting. Same thing with Slayer. No surprises, no left turns, no deviations. It is what it is. Like your favorite pair of shoes, you know what you're slipping into.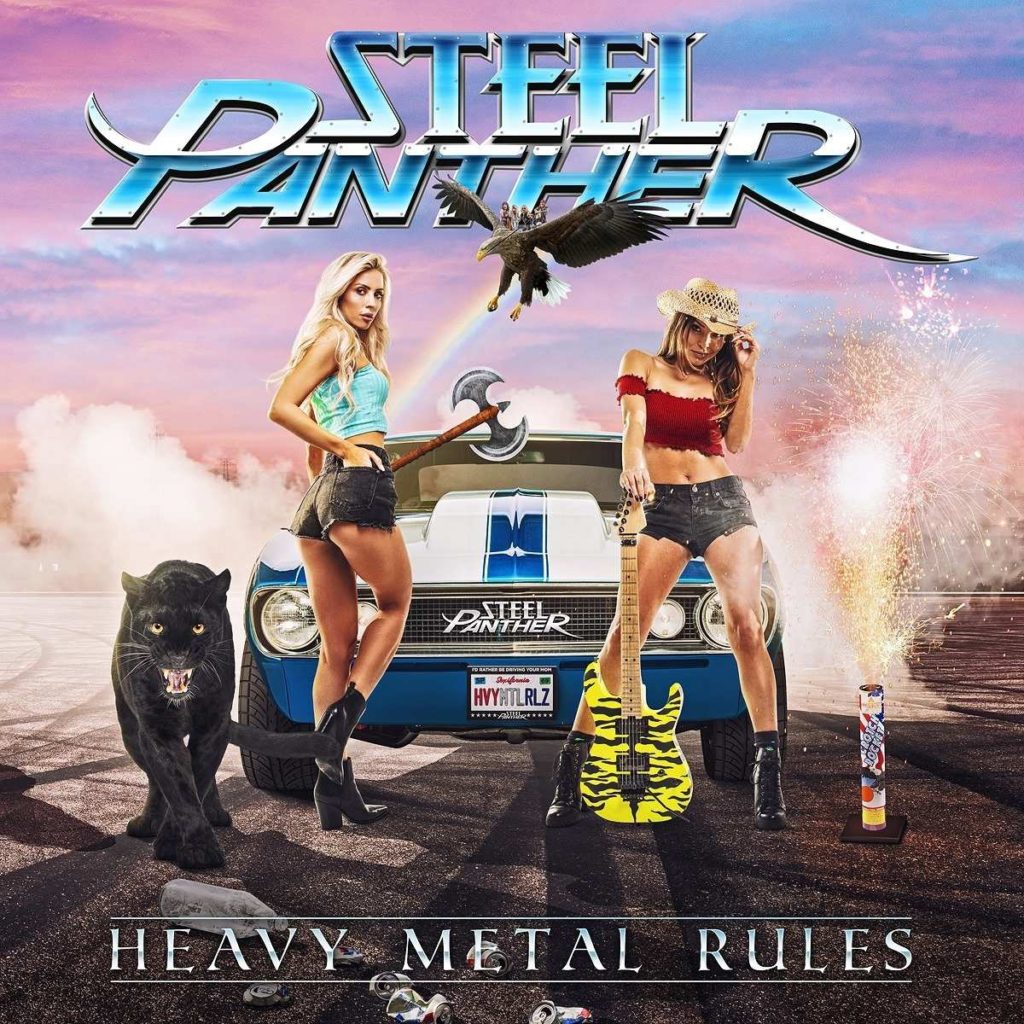 The same can be said of the L.A. foursome and current reigning kings of crotch, Steel Panther. By no means are they in the same league as AC/DC or Slayer. Talk to us in 20 years. But from the Department of Consistently Consistent, they're at the top of their game.
The band's fifth and latest album, "Heavy Metal Rules," set to be released Sept. 27, is the proof in the cream-pie pudding. The album drips the usual Pantherisms of sex, sex and more sex at every turn. If there's a Japanese release with bonus tracks, it's a lock those songs are about getting down and dirty, too. Expectations? Met.
Vocalist Michael Starr, guitarist Satchel, bassist Lexxi Foxx and drummer Stix Zadinia have given birth to yet another Steel Panther platter of politically incorrect beatitudes with the venting likes of "Fuck Everybody" ("Went to my local Starbucks/ordered my usual fare/two or three people on line behind me got their frappucinos first/Fuck Everybody) to the arena sing-along "All I Wanna Do Is Fuck (Myself Tonight).
With "Heavy Metal Rules," Steel Panther is laying down the gauntlet once again. As unique as they are potty-mouthed, the group has managed to carve out its own little niche in a fickle record-buying audience these days. Whether it's been a calculated rise or a happy accident, what ever it is,  it's worked.
"Gods of Pussy" starts out sounding like a ballad faxed from 1989 before morphing into a mid-tempo rocker with a chorus you'll be humming the rest of the day. Same thing with "Always Gonna Be A Ho," and "I'm Not Your Bitch." Catchy as hell. And Heaven.
Guitarist Satchel throws a not-so-sublte nod to Led Zeppelin (or is it Greta Van Fleet?) on "Sneaky Little Bitch," then keeps the slightly throwback vibe going on album closer "I Ain't Buying What You're Selling," with its clean acoustic guitar accompanying Starr singing "I don't need confession to absolve me of my sins/they're as much a part of me as a fish is to its fins."
If you want deep, this isn't it. And it's not supposed to be. "Heavy Metal Rules" is classic 80s-style hard rock riffs and song structures topped with a cherry of sexual lyricism that would make a porn star blush. In other words, it's Steel Panther. No surprises.
Lick your chops, people. They're coming.
4 out of 5 Dildos
STEEL PANTHER
"HEAVY METAL RULES"
TRACK LISTING
Zebraman
All I Wanna Do Is Fuck (Myself Tonight)
Let's Get High Tonight
Always Gonna Be A Ho
I'm Not Your Bitch
Fuck Everybody
Heavy Metal Rules
Sneaky Little Bitch
Gods of Pussy
I Ain't Buying What You're Selling