Weezer, Pixies deliver a tasty treat to Des Moines
A Weezer/Pixies co-headlining tour, as it turns out, is a damn good idea after all.
On paper, packaging two bands that reside in the same musical neighborhood is an exercise in throwing caution to the wind. It might work, but then again, it might not. Sonic overload is a real thing. Look no further than some of the current tour packages featuring acts with identical sounds. Instead of getting a multi-course meal, concert goers get hamburger for the opener, and hamburger with a bun to close it out. No bang, little variety.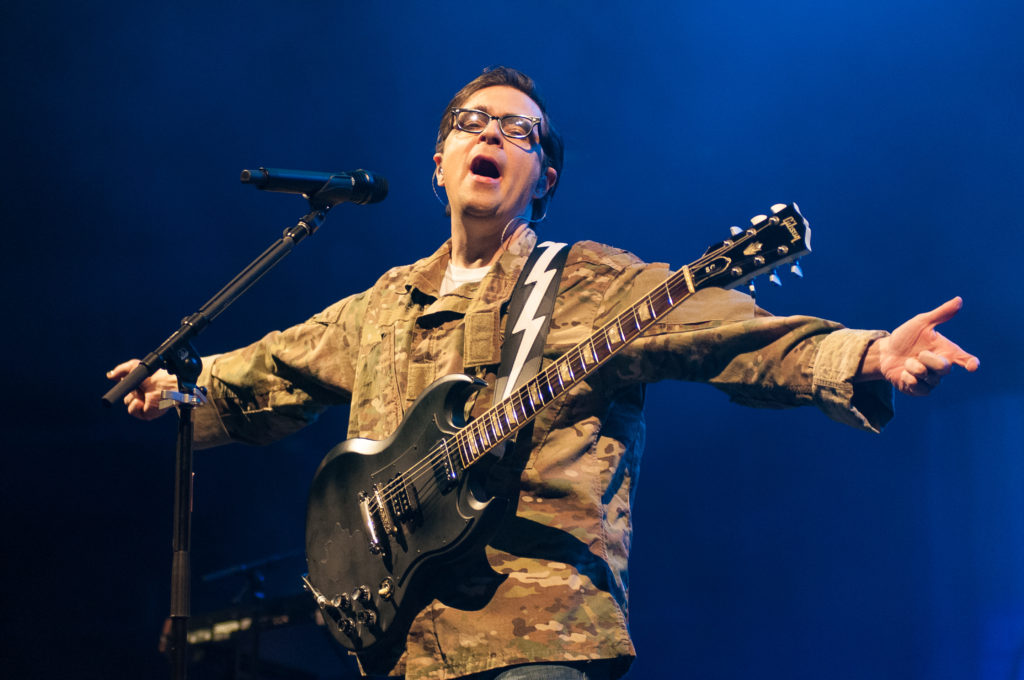 But while the Pixies and Weezer do indeed have their similarities, their differences — as shown to the more than 8,000 fans who made their way to Wells Fargo Arena Thursday night — are marked. The Pixies burger is grit and stark; the Weezer burger is juicy and colorful. Same thing, but radically different.
Weezer, in their typically upbeat and slightly comedic ways, eschewed standard arena concert protocol even before the curtain was drawn, suddenly appearing on a small wooden platform in the photographer's pit dressed in barber shop outfits to perform an a capella version of "Pork and Beans." That set the tone for a spirited 20-song set that drew songs from their latest cover albums, "Weezer (The Teal Album)" and "Weezer (The Black Album); and their past catalog.
Rivers Cuomo (vocals, guitar), Brian Bell (guitar, keyboards), Patrick Wilson (drums) and Scott Shriner (bass) delivered spot-on covers of Toto's ultra-harmonic "Africa," and the fuzzy-toned and sinister Black Sabbath epic, "Paranoid." As for their own material, the radio-friendly "Buddy Holly" and the popular 2005 sing-along "Beverly Hills" didn't stray from the beaten recorded path, nor did a raucous version of "Hash Pipe" in which Cuomo asked the audience if they were "ready to mosh."
The ageless wonder and "nod and a wink" frontman was spry and engaging throughout the set, slipping in and out of various singing/playing capacities with ease, from solo acoustic on "Take On Me," and "(If You're Wondering If I Want You To) I Want You To," to the straight-on guitar-driven stylings of "Troublemaker," in which the band eventually nestled into an energetic hard rock riff that put anything Motley Crue has done in 30 years to absolute shame.
"Des Moines-ians," Cuomo shouted. "You are in for a tasty treat tonight."
The band rolled into a cover of TLC's "No Scrubs," which was met with mixed reaction, but soon forgotten when Cuomo asked the audience if they remembered when "MySpace" was actually fun, while a TV/VCR combo was rolled out onto the stage behind them. The video for "Pork and Beans" was supposed to play while the band tussled through its electric version of the song, but the VCR refused to cooperate, leading Cuomo to request that an audience member ante up a phone to play the video on. A phone was secured — but it was playing the wrong video.
"Goddamn technology. 10,000 phones and a VCR and I can't get our video to play," Cuomo joked.
Hiccup or not, the crowd ate it up as the band closed out the night with "Surf Wax America" and "Say It Ain't So."
Opener Pixies was the ying to Weezer's yang.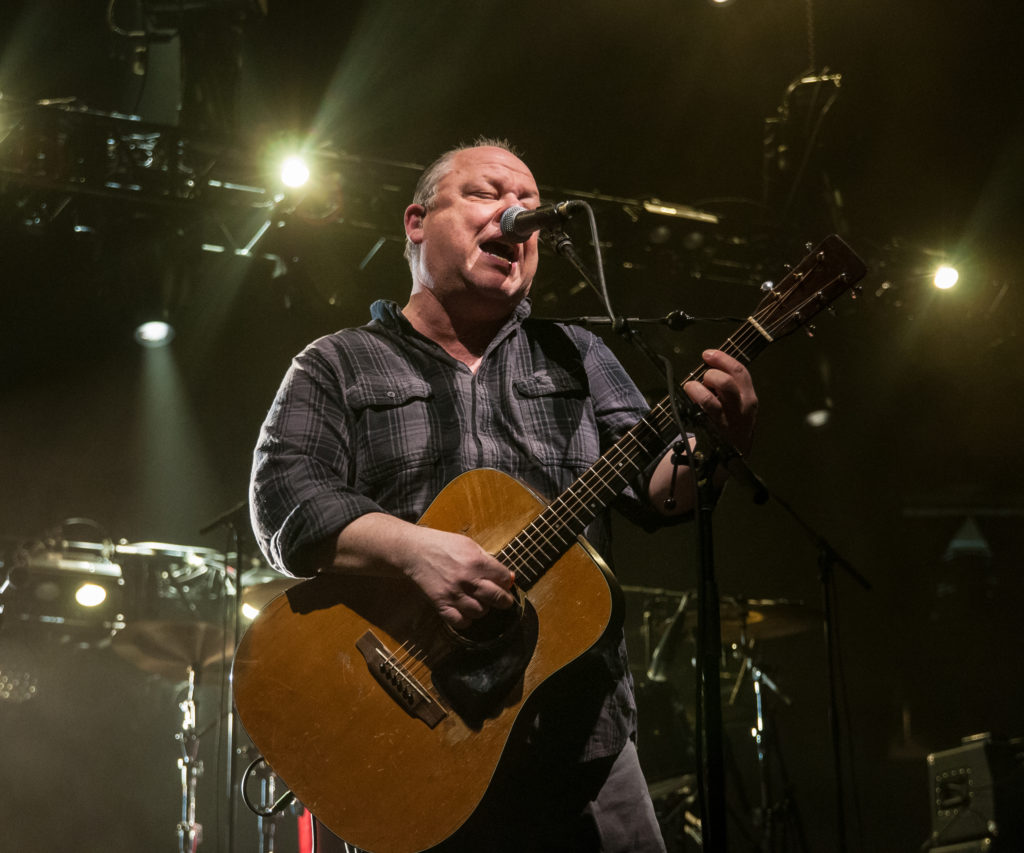 Featuring the eerie and off-center songwriting skills of frontman Black Francis, the band ridded themselves of any and all aesthetic distractions, instead choosing to focus on one thing and one thing only: the songs.
Francis spoke nary a word during the entire 80-minute set. That's right, not a single word. But while his audience interaction between songs was null and zero, his ability to connect with concert-goers remains intact after more than 30 years in the business.
Francis guided the band, consisting of David Lovering (drums), Joey Santiago (guitar) and female bassist Paz Lenchantin (bass), through the set with expertise, delivering songs such as "Hey," "Gouge Away," and multi-tempoed "Mr. Grieves" and "Wave of Mutilation" with equal parts accuracy and emotion of a live concert setting. Set staples "Where Is My Mind" and "Caribou" were included as well.
Francis' take on "Motorway to Roswell" was one of a soundtrack to Armageddon peppered with glimpses of salvation. The quartet performed a blistering, punk-sounding Spanish "Isla De Encanta," "Vamos," and Lenchantin-led "Gigantic," but proved they were equally as adept at switching harmonic gears with the arrival of "Death Horizon" to the set, and the swinging surf guitar riff in "Here Comes Your Man."
Francis may not look the part of a guttural vocalist with varying shades of angst on his mind, yet he remains the strong presence of a band with reach far enough to have influenced the likes of Nirvana, Radiohead, and even tourmates Weezer, who were the recipients of a perfectly-set table for them on this night.
Grit and stark, colorful and juicy.
A well-rounded sonic meal.