Mixing It Up: A Conversation with Amy Grace of Big Village Little City
Big Village Little City's musical stew is diverse in its many flavors.
It's one part hip-hop, a pinch of funk, and a copious portion of jazz rolled into a unique offering that has East Coast music aficionados buzzing.
The fresh-sounding hybrid featuring Minneapolis-bred rapper Zac Hills-Bonczyk (aka "Forefeather"), veteran New York City jazz singer Amy Grace and a talented backing band, released their latest E.P. last week, "Over the Weather, " a vibrant,  six-song collection of original music produced by Charlie Patierno (The Roots, Octave Cat, Melody Gardot).
ListenIowa caught up with Amy Grace recently and spoke with her about her love of the jam session, jazz DNA, and the band's new album.
Big Village Little City has an interesting mix of a lot of different styles of music, from funk to jazz to hip-hop. Is it challenging to make that blend work?
When I was younger, I was doing a lot of jazz jams and was a part of the live music world, so our music works because they all have little elements of each other. Funk and hip-hop wouldn't be a thing if jazz didn't happen, but the music goes together because it comes from each other.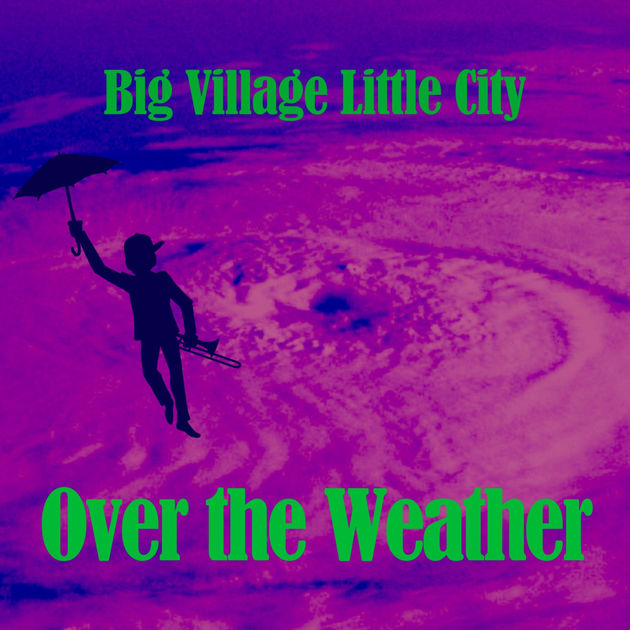 Talk about the genesis of the band and you meeting your band partner, "Forefeather."
We met at a dance party that happened from 6 a.m to 10 a.m., something that was happening in New York at the time. We started writing a few things, sending tracks back and forth to each other. The first performance we had was a House of Yes in Brooklyn. We had two or three songs written at the time, and we just invited a bunch of musicians we knew to play; it just worked. The sound made a lot of sense. From there, we kept performing all over New York and added family members to the band.
Do you like the challenge of a jam session setting?
I do. I think that's how you make the best music, and art, in general. Everyone is adding to it, and it becomes its own monster. The music is taking us somewhere. We actually do a lot of improvisation. We'll ask an audience member what he or she did that day, and then write a song about a few different random topic. Forefeather has done a lot of freestyling and can make up and entire poem off the top of his head. A lot of us come from a jazz background, so it's kind of "home" for us to be improvising together. I've been lucky to have been working with amazing musicians this whole time.
You came from a jazz upbringing.
Yes. Both of my parents played jazz, so I couldn't really escape it. I was always playing in the house, and my parents would host jazz parties in our backyard, so I was always exposed to it. I also really loved to sing, too. Later on I began booking for a jazz club in Brooklyn for awhile, so I was around it all the time.
Did growing up as a jazz fan make you feel like you were different than other kids at that age who were probably listening to pop music?
I was never interested in manufactured music or artists. I always kinda knew I was weird for that, but I didn't care. I think a lot of artists go through that. They use the art to express how different they feel, because they don't necessarily communicate like everyone else does.
The New Orleans influence is definitely there in your music. Have you been to New Orleans?
I was there for Jazz Fest once with my parents, which was awesome. I grew up in that culture because of my parents and was always aware of where the music came from, and was aware that this place existed. I remember when I went to New Orleans, my brother was like, "Oh, you're going to the homeland."
In your mind, what are the differences in New York City jazz and New Orleans jazz?
New York jazz is more about the player, and New Orleans jazz is more about the experience. When you go to a jazz show in New York, it's amazing and the musicians are incredible. With NOLA, it's more about the audience, the party, and the room.
Do you prefer one over the other?
I think you can't have one without the other. It's great to be a super trained musician, but there's also the hosting and ambience part where you're creating a space for people to celebrate themselves.
Your latest album, "Over the Weather," was released recently. How did this one come together?
Every album is definitely a journey. We're been working on it for about a year. We wrote the songs a while ago, but the recording of it was actually pretty scattered. We didn't go into a studio one day and cut everyone's tracks; it was individually done. Everybody is busy musically with our own schedules, so we just slowly and surely went into the studio and recorded the horns, then we'd do the vocals, and piece it together. It's a blessing that it can be done this way. Home studios and recording studios aren't that different of an experience anymore. But if the recording isn't good, the end product will never be good, regardless.
Are there any tracks that stand out for you?
I think I'm most proud of the sounds we created. We've been playing these songs live, and it's such an experience. You can look around and feel the energy that has been created. After a show, or when you play a recording, you know you've affected people, made them celebrate, and helped them celebrate themselves.
Kind of like New Orleans — it's more about the overall experience rather than individuals.
Exactly. The overall message of the album is to not forget to celebrate, especially in this day and age where there's a lot to feel negative about. People can get really caught up in their day-to-day lives and not even remember that it's simply amazing that we're even here. It's amazing that we can all move to on rhythm, and we can all be together and celebrate everybody — the similarities and the differences.
For more information on Big Village Little City:
www.bigvillagelittlecity.com
www.facebook.com/bigvillagelittlecity
www.instagram.com/bigvillagelittlecity